T
here are plenty of good reasons to
Open Your Doors
and share what Manufacturing really means to you, and if you're already registered as a host for Manufacturing Day 2015 we are here to help.
If you're still considering whether or not to register an event at your facility, take a look at some of the extensive
MFG Day resources
available to you. Speaking of help, here are some handy tips for registered event hosts from our in-house help desk wizard:
Viewing Or Editing Your Events
We have been answering plenty of questions about logging in to
mfgday.com
as a user to view or edit your event. It's important to remember that whichever email address was used to register the event, that is the login that must be used to view or edit it further. It is possible to add someone else's email address as a contact person, but that will not enable them to log in as the event administrator here. Since so many of you have asked about it, we are working on some changes for
Manufacturing Day 2016
that will allow the event creator to add multiple users with editing privileges.
When you are logged in, you should see a Host Dashboard with a list of the events you may view or edit below the navigation bar.

Viewing Your Event Registrations
Once you have successfully logged into the site as a user, you can select the event you wish to view or edit from the Host Dashboard (pictured above).
Just click the button below the map that says "View Registrations" and you'll see a list of attendees who have registered to come to your event (as pictured below)!
Closing Registrations For Your Event
Too many people signed up to visit your Manufacturing Day event? GREAT problem to have, but let's make sure we don't end up with more than we can handle. In the same section of the site that allows you to edit your event, you should see a checkbox like the one below that says, "Close Registration?"
Check this box to stop more attendees from registering for your event.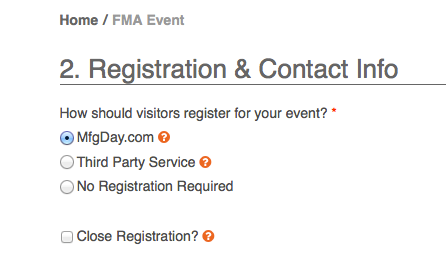 Call Us For Help Desk Support
If you have run into a problem that you just can't fix, or are unable to log in to the site to edit your information, we're here to help! Send us an email, or call us toll free for help with your Manufacturing Day preparations. We want you to have a fabulous event, and we're willing to go the extra mile to make that happen.
Creating a whole new event is not the answer
; we can troubleshoot your account or reset your password and login information if that's what it takes to get you back up and running with your data intact.
Contact us via email at: info@mfgday.com
Call us toll free at: 888-394-4362
Help Spread The Word
Help us, and everyone else, find your event online by using the hashtag
#MFGday15
in all of your social posts and promotions. Remind your attendees that they can share photos (when appropriate) with this hashtag on Facebook, Twitter, and Google+. Prior to your event, post on your company's social pages and email communications using this hashtag to help attendees find your event, as well. Together we can spread the word about Manufacturing Day 2015 both online and in person. If you haven't already done so, be sure to find and follow our official pages on
Twitter
,
Facebook
,
Google+
, and
LinkedIn
. Good luck next month, and have a great Manufacturing day!